About SAAAPM
The Society of Academic Associations of Anesthesiology and Perioperative Medicine (SAAAPM) is the umbrella organization for the four associations listed below. The umbrella organization SAAAPM does not have individuals as members, but associations as its members. Decisions will be made by input from the four associations as represented in the governing council. The four associations are:
(1) The Association of Academic Anesthesia Chairs (AAAC) representing the Chairs of the academic departments in this country.
(2) The Association of Anesthesiology Core Program Directors (AACPD) which is representative of ACGME designated core program directors.
(3) The Association of Anesthesiology Subspecialty Program Directors (AASPD) representative of the currently recognized subspecialty program directors.
(4) The Association of Anesthesiology Program Administrators and Educators (AAPAE) representing program administrators and educators of ACGME approved anesthesiology residency or fellowship programs.
At this time, we are extending an invitation for each Chair, Core Program Director, ACGME approved Subspecialty Program Director and administrators/educators serving in an Academic Anesthesiology Department to become a member of this Society.
Each Academic Anesthesiolgy Department needs to pay Yearly Dues which are $825 and are levied with the Chairperson of the Department. At this time, we are accepting applications under this dues structure for membership into either AAAC by the current academic anesthesiology Chair as well as into AACPD by the current ACGME designated Anesthesiology Core Program Director, the Association of Academic Subspecialty Program Directors (AASPD) for the current six anesthesiology affiliated ACGME approved Fellowship Program Directors (Pain Medicine, Adult Cardiothoracic Anesthesiology, Critical Care Medicine, Pediatric Anesthesiology, Obstetric Anesthesia, and Regional Anesthesiology and Acute Pain Medicine) and program administrators or educators of ACGME approved anesthesiology residency or fellowship programs (AAPAE).
---
Message From The President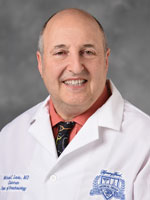 It was with a great sense of gratitude and humility that I assumed the role of President of SAAAPM in October 2021 for an unprecedented 3-years because of the retirement of Ron Pearl. I will fulfill the role of President of our society to the best of my ability.
Our organization owes a debt of gratitude to my predecessor Ron Pearl. During his very successful tenure as President, Ron always strived to consolidate our organization, to support academic anesthesiology, and to enhance our advocacy efforts. I hope to maintain the standards of excellence and his accomplishments.
SAAAPM will continue to be engaged in:
Working with all the membership to increase our educational expertise, support our field by improving leadership development, so that our academic future is bright.
Providing feedback from our academic caucus to the ASA on matters of importance to the academic community.
Working with the ASA to emphasize academic anesthesiology and the importance of research on the ASA's website, which is being redesigned to help highlight scholarship and research. 
Fostering SAAAPM membership of early career investigators.
Our partnership with FAER to maintain funding for education research.
Our recent virtual meeting in November 2021 was, by all accounts, very successful. It was a very well-attended meeting. We are in the process of reviewing the feedback that attendees have provided us. Our goal is to use your feedback to improve our annual meeting program. Along those lines, please contact me directly with your suggestions for topics or speakers for next year's program, or any other suggestions you have for how SAAAPM can be an even better resource for your department and program. Our goal, health environment allowing, we are hoping to have a live meeting next year.
Perioperative Medicine and the future of anesthesiology has been an important issue for the SAAAPM and its members. The SAAAPM will continue to advocate for our comprehensive role in caring for patients who are undergoing procedural and surgical care.
I look forward to serving the SAAAPM.
Michael C. Lewis MD, FASA
SAAAPM President